Via Ferreta:
Definition – A mountain route equipped with fixed ladders, cables, and bridges in order to be accessible to climbers and walkers.1
Since I first heard about the Via Ferreta out in the Sacred Valley I was keen to partake, and on 23-Feb-2017 (this will show y'all how far behind on my blog I am!) I made the trip with my best–good–friend, Jake. We booked the trip through American Inca Trail (http://americanincatrail.com/) which is a company I highly recommend for anyone coming to Cusco and wanting to explore.

We were picked up at the American Inca Trail office on Avenida El Sol by a private taxi which felt pretty luxurious compared to the combis and colectivos we would have independently taken. The drive took us out through the Sacred Valley, past Pisaq, and towards the town of Ollantaytambo, which many will know as the location of the train station to Machu Picchu. For those who have not experienced it, the drive itself is spectacular: mountains, glaciers, valleys, the Urubamba River, cute towns, a bungee jump site… totally worth the 1.5 hour drive, give or take.
Upon arriving we met out awesome guides and were equipped with harnesses, gloves, a helmet, and everything we would need to safely climb up the side of a fairly vertical cliff face and then zip-line back down to the bottom… YAY : )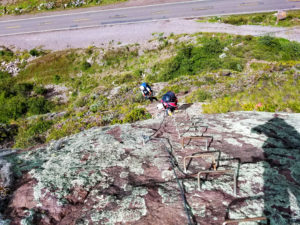 After warming up a little, we walked over to the beginning of the route and started climbing. Hammered into the rock were hundreds (if not thousands) of metal rebar which acted like a staircase which we flew up. Alongside this rebar there were hooks and a cable which we attached ourselves onto… and should there be a slip or a fall this connection would make the difference between falling a few feet and falling all the way back down to our death! Admittedly, the climb up was not very difficult… but hey… accidents happen, and it is better to be safe than sorry. While not too difficult, the climb was exhilarating! It felt great being outside, kitted up with climbing gear, and seeing the Sacred Valley from a totally different perspective.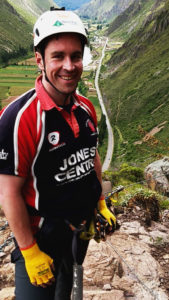 About halfway to the highest point we would climb to we came upon a wire bridge which we had to cross. Imagine this: three narrow cables used to shimmy across… one for your feet, one for your hands, and one you click onto… safe, but feeling very instable… and below you absolutely nothing but air! While heights are not my favorite, it was super fun and I would totally cross it again.
Once at the top we had AMAZING views of the Sacred Valley and got an opportunity to rest and soak it all in. I must have been a mountain goat in a former life, because I love the sensation of climbing up-and-down a mountain and taking in the views… simply breathtaking.
At this point we also got a pretty good view of the Skylodge Adventure Suites, which are basically transparent capsules hammered 400 meters above the ground that you can spend the night in! Not cheap, but freakin' awesome if you can afford it. They are managed by the Natura Vive company, which also runs Via Ferreta trip. Check them out at their website: http://naturavive.com/web/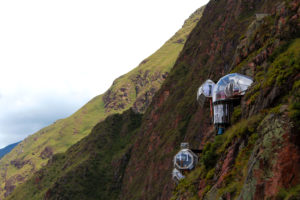 Sadly Jake and I did not spend a couple's night in the suites, but we did get to take 6 zip-lines back down to the base of the mountain! I love zip-lining… it's a rush! And again, the views were pretty unforgettable. Some were longer and faster than others, yet all were enjoyable.
I really cannot recommend the Via Ferreta enough for those who enjoy the outdoors, beautiful views, and a bit of adventure. While not as popular as some of the other day trips around Cusco (at least not at the time that I did it) it really should be. Another tiny benefit is that the Sacred Valley Brewing Company is located just down the road from the Via Ferreta, and Jake and I capped off a fantastic afternoon with some tasty local brews.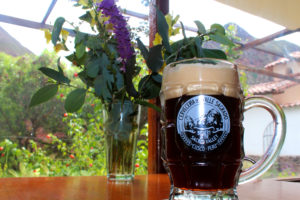 Bibliography:
"Via ferrata | Definition of via ferrata in English by Oxford Dictionaries." Oxford Dictionaries | English, Oxford Dictionaries, en.oxforddictionaries.com/definition/via_ferrata.