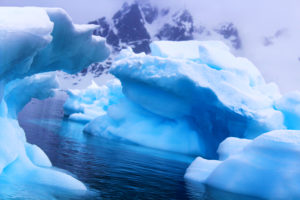 Danco Island and the Best Kayaking of My Life
We woke up in Danco Island, the most stunning location we have been to so far on this trip. The weather was perfectly calm, there were tall, white mountains all around us, and the icebergs in the area were the nicest we have seen so far. On top of that, it was pretty hot… 5º Celsius. Hot, by the way, is a relative term, haha.
I was expecting to do a simple shore landing, see some more penguins, and maybe walk around on some snow shoes; however, one of the kayakers decided not to go on the morning trip and I was able to get myself into the group. Seriously, this was the most amazing trip of my life. The water was so calm, there were icebergs everywhere which we were allowed to paddle through, penguins were swimming and jumping all around us, and saw a mini avalanche, we saw an iceberg spin in the water very close to us, we got sweet views of the mountaineers ice climbing from the kayaks, and we could see the 4 Desert runners completing their laps… it was very special. I also got partnered up with Ali, a New Zealander with lots of kayak experience. Together we flew through the water and navigated our way in between every iceberg we could find. It was a perfect partnership. He had his Go Pro and took some sweet footage of the penguins swimming all around us from under the water. Paul, the kayak guide, also seemed to be more relaxed today as we now all had experience and the weather conditions were perfect, so he pretty much let us do whatever we wanted to do. Honestly, the only way that this morning could have been better would have been if whales swam around us; otherwise, this made my whole Antarctic trip : )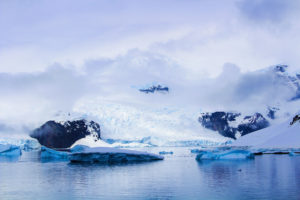 Winner of The Last Resert Race!
We had another cool even today… the first 4 Desert runner to complete the 250km race requirement finished! His name is Klye, and he is an absolute monster. He never stopped running and while other people seemed to struggle with the snow and the weather he made it look so easy. Seriously, looking at him in the ship you would not even know that he had just run 250km in Antarctica… truly inspiring. Four people in total reached the 250km mark today, and there is one more day to go. I hope more people are able to finish… fingers crossed for them.
Errera Channel and Evening Talks
The evening had us cruising through the Errera Channel, and it was absolutely stunning. The sun was shining on the mountains on both sides of the bay, there were icebergs everywhere, and even some penguins. It was a great backdrop for some talks and lectures we had on the ship concerning climate change, some talks about the plan for the rest of the trip, and even an art lecture from resident Scotsman, Bill. Throughout the trip he has been encouraging us to think about how life was like for early explorers, whalers, seamen, and shared with us many stories from a different era. He also did it all wearing a kilt… respect! Otherwise, it was nice to relax after some very busy days exploring, and to be able to get caught up on writing and photo editing. Right now we are sailing north again, and tomorrow will be our last half-day of exploring at Half Moon Bay before going back to the Drake Passage and "normal" life again.